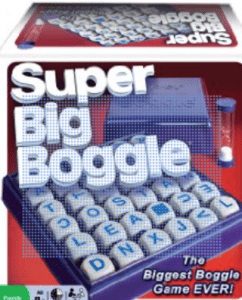 Boggle and Boggle Junior
Boggle is a great game to practice making and reading words in a fun game format. Super Big Boggle has a super sized grid including the new double letter cube and new blank cube. Includes 36 letter cubes and a 4 minute timer provide a fresh challenge with every game. The biggest boggle game ever. Contains 36 letter cubes, stylish cube grid and dome, 4 minute sand timer and instructions.
Boggle Junior is an easier game version for younger players and helps younger readers begin to recognize and learn the alphabet and sounds as well as put the sounds together to form words. This is a first game for preschoolers and grows with the child by combining different ways to play the game. The child can match letter cubes to picture or word cards in 2 multi-level games. This game is great for introducing letter and word recognition, matching, spelling and memory and is for 1-2 players.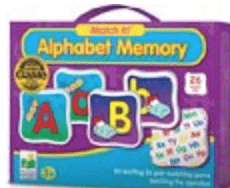 Match It! Alphabet Memory Game
The Match It! Alphabet Memory Game is a fun game that will challenge problem solving, teach upper and lower case letter recognition, and develop memory skills as they try to find a pair of matching alphabet cards. I recommend that you begin playing the game using only 4 letters. You will have 8 cards all together (4 upper case letters and 4 lower case letters that match the upper case letters). Add a new letter each time a letter (upper case and lower case) is learned. When the child turns over the matching upper and lower case letter they should also tell you the sound they would  make for that letter. You can also combine two and three letters to begin practicing blending the sounds together to make simple words to read. For example, when the child can recognize the letters a, t, and m they can make the words: a, at, am mat and tam. As the child learns more sounds continue to make new words to read combining the new sounds with the already known sounds.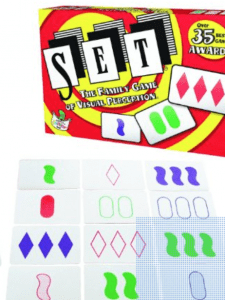 New Set: The Family Game of Visual Perception
New Set:The Family Game of Visual Perception, has won over 35 best game awards including MENSA Select. Race to find a SET of three cards where each feature is either all the same or all different on each card. SET can be played alone or with as many players as you can fit around the table. Most children who struggle with reading will benefit from a strategy to strengthen their visual perception skills. Strengthening a child's visual perception will also strengthen their ability to recognize and memorize letters and sounds as well as strengthen numerous other learning skills. Set can be played in 20 minutes or less so it makes a fun and quick way to practice a very important learning skill.