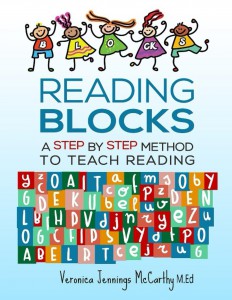 Reading Blocks: A Step By Step Method to Teach Reading  is a multisensory, step by step, 32 block system, that everyone can use to teach anyone how to read.
Reading Blocks was developed to cover all the phonics skills necessary to becoming a good reader, in an incremental multi-sensory format. The content naturally must be geared towards a younger audience but I always kept older non-readers in mind when developing the text.
This program can be used in Kindergarten to Grade 3 when learning to read and in higher grades when there are gaps in a person's reading skills. Reading Blocks can also be used with adults struggling to read even though the content is for younger ages.
Each block only contains skills which were taught and practiced in a previous Block. Sight words do not always follow phonics rules but are necessary for fluent reading, so they are included in each block. The sight words were chosen according to the skills being taught in that Block as well as frequency of use.
As a Reading Specialist, it was always frustrating using a reading program that included so many words that were too advanced for the level of the reader and never strategically taught. The reader would become frustrated and self-esteem would plummet. This program uses very controlled text and every skill is taught first and then reviewed periodically throughout the program. This ensures a high level of success for the reader.
So in summary, I wanted Reading Blocks to be an inexpensive resource for anyone to be able to use to teach anyone how to read.
This reading program can be used effectively with individuals who have: Autism, Dyslexia, Central Auditory Processing Disorder, ADD, ADHD, Downs Syndrome, and other learning challenges.
The Reading Blocks method combines literacy research and brain research with common, inexpensive office supplies, and explicit instructions to form a unique and powerful reading program.
The "Instructor" can be a teacher, a parent, or a tutor. Previous experience is not necessary for success.
Video lessons are HERE!  Each video will correspond to one Reading Block. The videos can be used for introducing and teaching each individual block or for extra practice after the block has been introduced by the tutor. Each video lesson will be available separately or in a package with greater savings. The first package is the Early Reading Program and can be ordered here.
Lessons in Each Reading Block
The Reading Blocks program breaks the learning to read process into 32 blocks, or chunks of knowledge.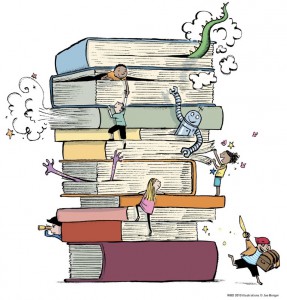 Each block contains six lessons:
Review – review previously learned material.
Introduce New – introduce new material and practice together.
Activity – reader independently practices new material.
ReGroup – discuss and review new material after independent practice.
Writing – practice independent writing using new material.
Reading – practice independent reading using new material.
All Materials Included
Each individual Reading Block contains all the materials needed to complete the block, including mini books and activities. The included mini books use controlled vocabulary to provide practice with the new skills covered in the current block as well as skills covered in previous blocks. Additional optional Decodable Readers are also recommended for each Block. The Recommended Products Page provides a link to see or purchase any of the recommended reading materials.
Each new block builds upon the previously learned block/blocks and becomes progressively more challenging. The reader can take as long as he needs to master the material in one block before moving on to the next block. Mastery of all 32 blocks will give an individual the knowledge base in reading necessary to become a confident and fluent reader.
There is a homework component for each of the 32 blocks called "Teach to the Wall". This is an excellent way for the reader to practice and learn all the material in each block. Teach to the Wall is a study technique to use when learning new information. This technique can be used with any subject and is a priceless tool for any student. The Teach to the Wall strategy is taken from the book "The Overnight Student" by Dr. M. L. Jones. I first heard about this book and study technique in the Ron Paul Curriculum under Gary North's, "ABC Academic Boot Camp".
This technique calls for taking a chunk of information which you just read or studied, one paragraph or one page, and begin to teach it to an imaginary classroom, without looking at your notes. You need to put what you just learned or read into your own words and teach it out loud. Then continue with the next chunk of information and repeat the same procedure. When you have finished all the information, try and teach the whole section, from start to finish without looking at your notes. When you can teach the whole section, without looking at your notes, you have learned the information.
Origin of Reading Blocks
I developed the Reading Blocks method while working as a Reading Specialist with a client load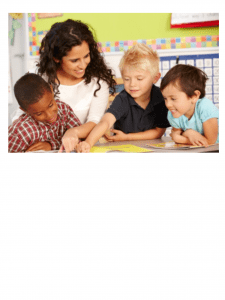 over eighty learners per week. The program I used had to be efficient in order to effectively work with this number of readers within the time constraints of a traditional school setting.
After hundreds of hours of research, and a lot of trial and error, I developed a method that finally worked. This is the book I was always looking for but could never find when I was searching for the best way to teach struggling learners how to read.
Unique Components of Reading Blocks
A complete systematic, multisensory, phonics based, reading program, which can be customized for any age learner and any learning difference.
An original "Wall of Knowledge" scope and sequence which allows the instructor and learner to "see", and understand exactly where they are on the path of learning to read, as well as exactly where they need to go.
Unique activities and reading material for each reading block that is perfectly matched to the skills being learned at that level. This takes the guess work out of finding appropriate material to use for practicing skills.
An easy to follow format which does not require months of training and a huge financial commitment.
A method that can be used by Teachers, Parents, Tutors and Reading Specialists alike; no training or background is necessary.
A method that is based on Orton-Gillingham methodology.
An informative assessment which is crucial for designing an effective, customizable, reading plan for each unique learner.
The ability to begin the program at a level appropriate to each learners' needs, based on the assessment. This component saves time and minimizes boredom.
How to Use the Reading Blocks Book
Read the Introduction
First read the introduction to get a background on what is involved in the reading process. Carefully read the section on multisensory strategies. You will need to choose several of these strategies to incorporate into your session. You will choose strategies based on your learner's specific needs.
Look Over the Reading Wall Assessment
Then look over the Reading Wall Assessment in Section I and the 32 Reading Blocks in Section II to familiarize yourself with the material in the program. You will assess your reader's skills with the Reading Wall Assessment. Then you will choose the block to begin with based on the results of the assessment and your learner's unique needs.
Prepare a File Folder
Finally, you will prepare a file folder with the material from your chosen block as well as any other material according to the results of the assessment. Section I contains all the information to guide you in this process. You can also view a video lesson for Block 1. The video will show you the correct way to structure your lessons.
Section II
Section II is the heart of the Reading Blocks program, the 32 blocks. Each block is self -contained and supplies all the instructions and materials needed to complete the block. There is also a "Checkpoint" after every five blocks. The Checkpoint is a quick review of the previous five blocks of material and will help to inform the instructor on whether or not the reader has mastered the material.
The Checkpoints can also be used as quick assessments if the instructor is planning on skipping several blocks. The reader should be able to complete each checkpoint with a 90%  score or better to continue on to a higher leveled block.
The Reading Wall outlines the scope and sequence of the skills necessary for becoming a skilled reader. The instructor and the reader should each have their own copy of the Reading Wall to follow and check off as each skill is mastered. This will also help to keep you focused and to know exactly where you are on the skill continuum as well as where you need to go next.
The learner can use his own copy to personally keep track of where he is and where he needs to go. This is a great visual tool for motivating any learner. (You could also write in some type of reward at different points on the learner's chart to motivate him even further.)